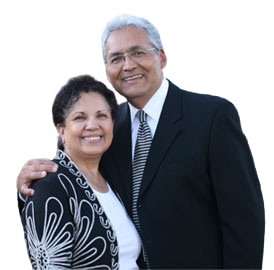 Pastor Richard Hernandez is a native of Denver, Colorado and a graduate of Denver's East High School. He holds a Master of Ministry degree and a Doctor of Ministry from Master's International University of Divinity. Having a heart for ministry, he is known as an encourager to both ministers and to laity. His biblical wisdom and practical advice provide rich blessings to all who seek the heart of God.
While attending Western Apostolic Bible College in Stockton, California, Pastor Hernandez met his future wife, Carmen, at a district wide singspiration. Carmen, born in Turlock, California, is a graduate of Trinity School of Natural Health and is a Naturopathic Doctor and Master Herbalist. She has blessed multitudes with her knowledge and wisdom. She serves as music director for the church.
Pastor Hernandez has been married to his beautiful wife, Carmen, for 49 years. Together, they have ministered to the lovely people of the Lily of the Valley for nearly 49 years. They have two wonderful sons, two awesome daughters-in-law, and three awesome grandsons.